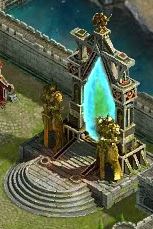 Hall of Heros
'The Hall of Heros is where warriors join forces together and battle various evil forces. Enter the Hall of Heros and participate in multi-player dungeons earning vast amounts 'of experience and legendary equipment. Take on the more difficult level 40+ nightmare dungeons and recieveeven greater rewards.
You may participate in multi-player dungeons three times a day . Also offered in the Hall of Heros is the Spire, a multi- player ladder dungeon. you may only do the spire one time per day .
Ad blocker interference detected!
Wikia is a free-to-use site that makes money from advertising. We have a modified experience for viewers using ad blockers

Wikia is not accessible if you've made further modifications. Remove the custom ad blocker rule(s) and the page will load as expected.