Mystery Shop
1. Rare items are available for purchase here
2.Items in the Mystery Shop reset automaticly every four hours or can be reset manually using BALENS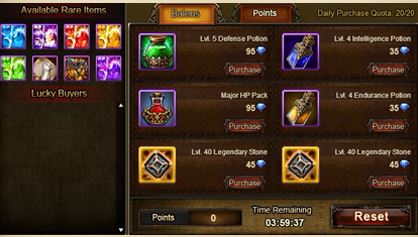 3. Every time you purchase an item in the mystery shop using BALENS you will recieve points. these points may then be exchanged for various items in the mystery shop.
4. You may purchase up to 80 seperate itemsfrom the mystery shop per day.
(pruchase counter resets daily at 05:00)
Ad blocker interference detected!
Wikia is a free-to-use site that makes money from advertising. We have a modified experience for viewers using ad blockers

Wikia is not accessible if you've made further modifications. Remove the custom ad blocker rule(s) and the page will load as expected.